Junior High and High School students: PENNY WARS. The battle of the year is here. The Penny Wars start soon. The goal: have the most points. The prize: get out of 8th and 9th period to watch a movie and eat pizza on December 16. Start your winter break off right. Bring in your change or canned food to help bring your grade to victory. Or, bring in your bills to sabotage other grades. Coins and cans count as positive points and bills count as negative points. Every cent is one point. Every can is 100 points! All of the proceeds go to helping families in need provide for their families this holiday season. The Penny War begins November 28 and runs until 7:45 am on December 16. Good luck, and may the best grade win!


With the football team advancing in the playoffs, this Saturday evening's Green Door Theatre's performance of Pandemonium will be rescheduled for Tuesday, November 22. See the link for more information and to purchase tickets in advance.
https://mogadoredramaclub.weebly.com/tickets.html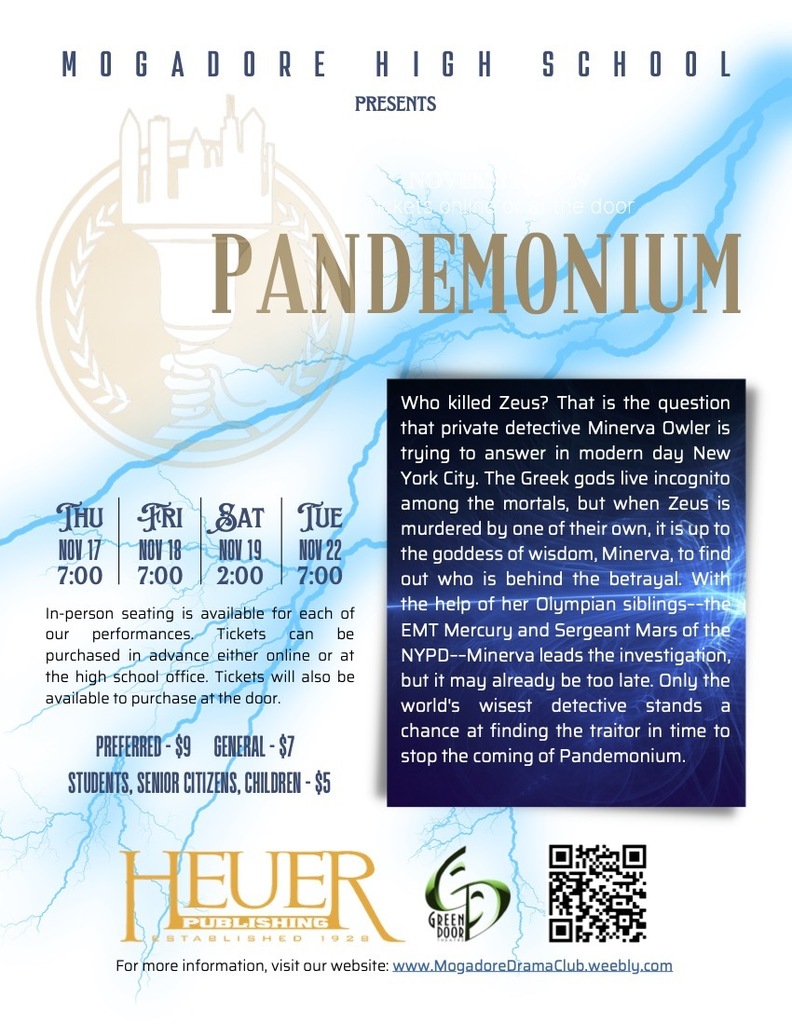 PTSO Donatos Dine to Donate Help support O.H. Somers on Thursday November 17th, 2022 from 5 p.m. - 9 p.m. 2749 Albrecht Ave, Akron 234-226-4777 Mention and or show flyer when picking up order 20% of your regular priced purchase will be "Doughnated" by Donatos to O.H. Somers. Must present this flyer with purchase for rebate to be valid! Valid on eat in and pick up only. Valid 11/17/2022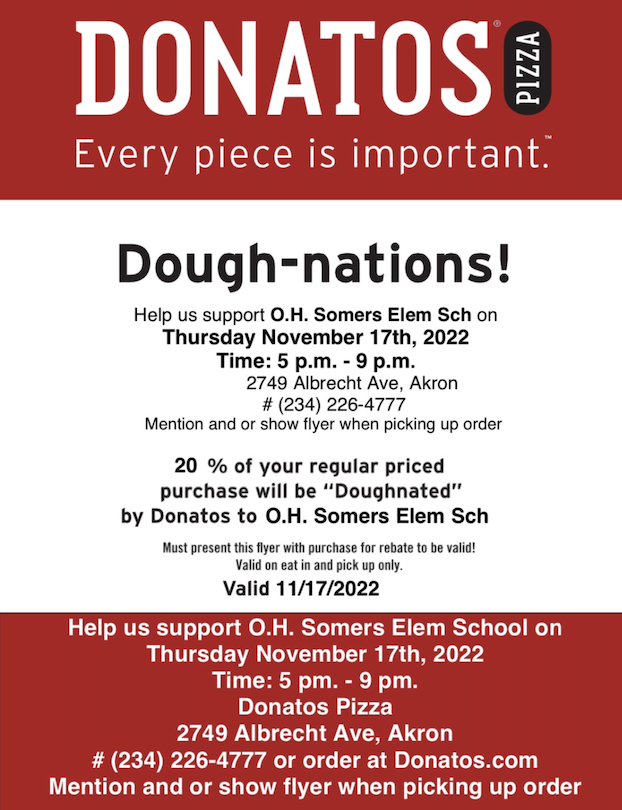 The book fair is here at O. H. Somers! Students will have an opportunity to shop the fair during school hours. If you send in money for your student to shop during the day, make sure envelopes are labeled with your child's name. If writing a check, it can be made out to O. H. Somers Elementary. (p.s. Remember to include extra for tax!) There are multiple family shopping nights! Monday, November 14th from 5:30-6:30 Tuesday, November 15th from 4:30-6:30 Wednesday, November 16th from 4:00-5:00 Every purchase benefits our school! Thank you for your support.


Good afternoon, Two items for you: Junior High and High School wrestlers there will be a parent meeting on Tuesday, November 8th at 6:30 PM in the Community Room (end of building nearest Cleveland Ave.). The Varsity football game will be this Saturday, November 12th starting at 7:00 PM. The game will be played at Twinsburg Tiger Stadium at 10270 Ravenna Road, Twinsburg. Take care, John Knapp

Wildcats have a busy post season weekend ahead! Tickets for this weekend's events must be purchased online:
https://www.ohsaa.org/tickets
11/4: Football vs Canton Central Catholic @ Home. Select Division 6, Region 21. 11/5: Girls Cross Country @ States

Mogadore High School Cheerleading Program will be having a Chipotle fundraiser on Tuesday, November 1st. • Mention Mogadore HS Cheerleading fundraiser in-store or use the flyer attached. • If ordering online via the Chipotle app or
www.chipotle.com
: Enter code 4HNTHK3 • Delivery orders placed through other apps will not count towards the fundraiser.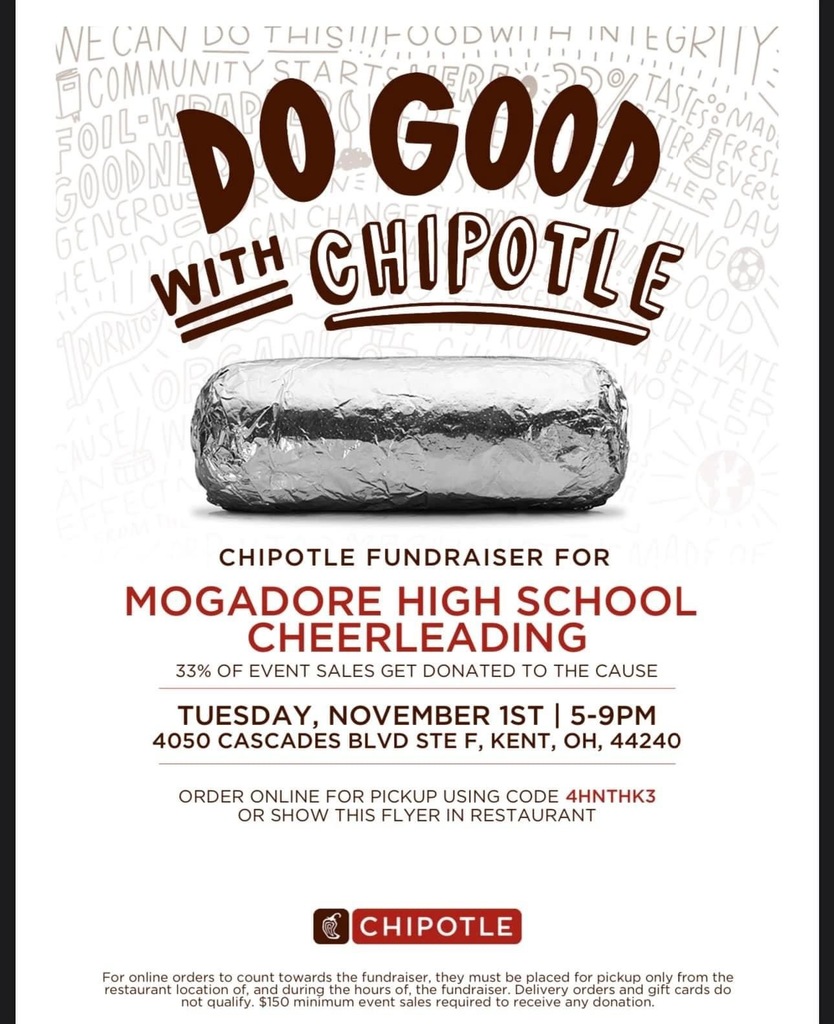 Beginning Tuesday, November 1, 2022, arrival and dismissal procedures will be changing for all students in grades K-6. Please read carefully the information below:
https://tinyurl.com/y9d4ehwf


Last chance for Boo Grams! PTSO is taking orders until 10/25. Message orders on the PTSO Facebook page, and pay through PayPal only with a $1 convenience fee.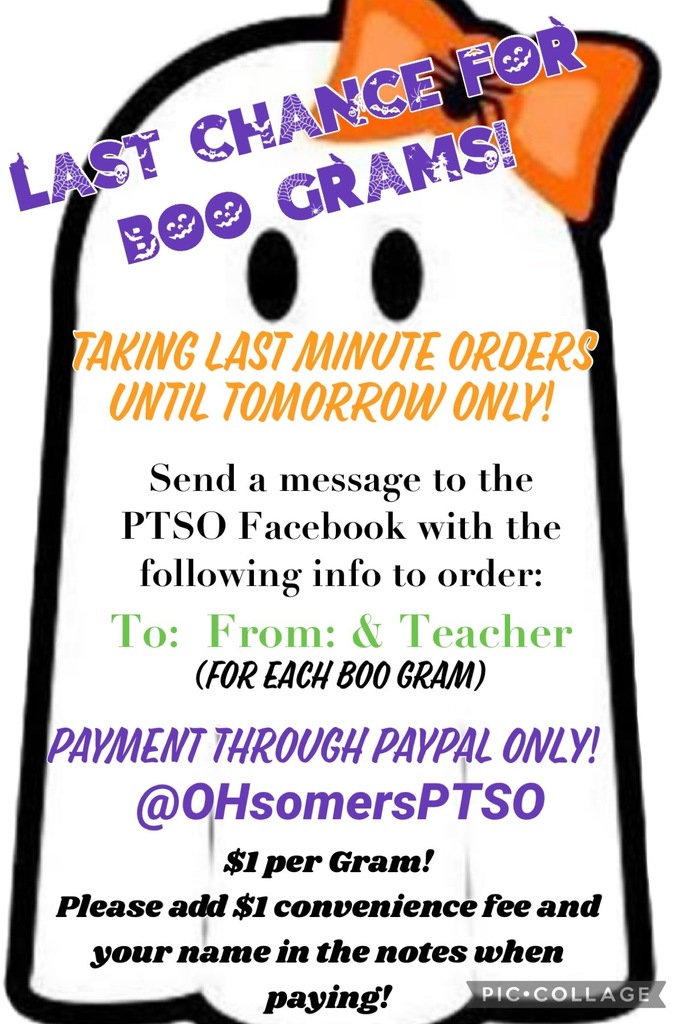 All tickets for football playoffs will be sold online through Hometown Ticketing at this link:
www.ohsaa.org/tickets
Once there: Click on "Football" Click on "Region 21" Click on "Get Tickets" next to event Complete the transaction


Reminder! PTSO Boo Gram orders are due no later than October 21st. Form and information can be found here:
https://5il.co/1jdot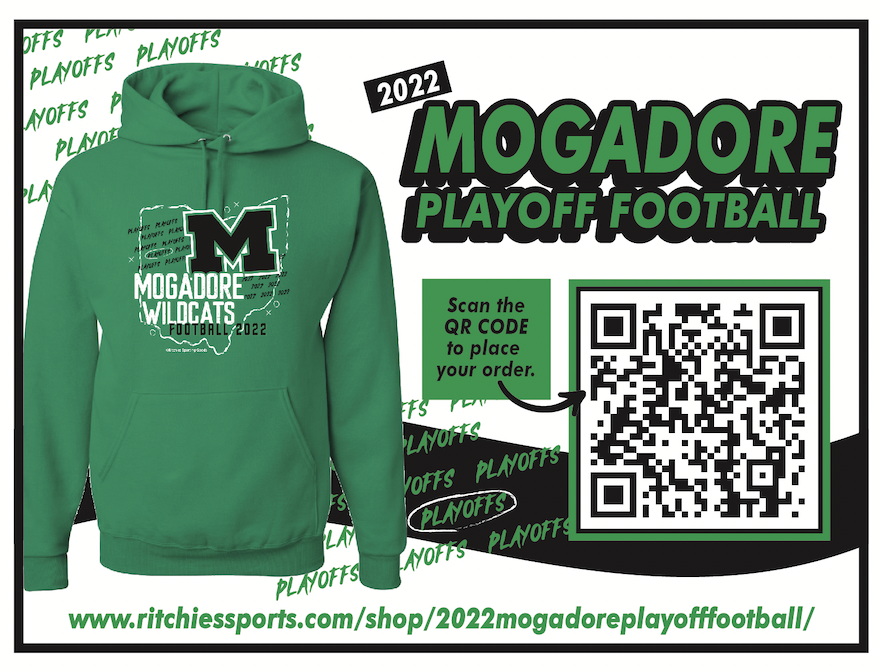 Tickets for the tournament volleyball match: Wednesday, October 19th at 6 PM at Canton Central Catholic vs. Kidron Central Catholic Must be purchased online:
https://www.ohsaa.org/tickets
Click on Volleyball (Girls) Scroll down to Division IV Click Columbiana Enter Event Name: Mogadore Purchase Tickets ***THERE ARE NO CASH TICKET SALES FOR OHSAA TOURNAMENT/PLAYOFF EVENTS***

Good afternoon, Three items for you: A reminder that Girls' and Boys' Youth Basketball information is available on
www.mogadore.net
in the News section. Girls' registration ends this Friday, October 7th. Questions for youth girls contact Coach Ritch at
mo_ritch@mogadore.net
. Also, there is school this Friday, October 7th, however next Friday, October 14th there is no school as it is North Eastern Ohio Education Association (NEOEA) Day. Finally, download the Mogadore Local Schools app on your smartphone for updates. Take care, John Knapp

Unfortunately, University School has an illness outbreak and cannot risk bringing a skeleton team to Mogadore. Therefore, the football game tonight is canceled. Homecoming ceremony will be tomorrow night at the dance. Lastly, the "Distinguished Alumni" tailgate is going to go on as planned. They will have food, drinks, etc. Please feel free to come down and honor Tom Adolph and John Thomas.

Grab some Chipotle and help PTSO at the same time! 🌯 Order from 4050 Cascades Blvd, Ste F, Kent, Ohio 44240 on Saturday, September 24th from 5-9 p.m. Make sure to show this picture when checking out or use the code WQZHYMT when ordering online!