Update: Police activity at Lions' Park. Issue resolved. Not school related/focused. No students were outside during this time; all school doors were locked.

Tonight: Boys Basketball @ Springfield High School. JV at 5:30. Varsity at 7:00. Location: Springfield High School 1880 Canton Rd. Akron, 44312 (Please enter through Door L, located on the backside/stadium side of the building.) All tickets are sold online!! There are no cash sales at the gate. Tickets can be purchased at:
https://springfieldspartansathletics.com/event-tickets
Adults = $7 Students = $5 Senior Citizens (60 and over) = Free Children 5 & under = Free Livestream:
https://www.springfieldspartans.org/video

Join us for Taco Tuesday at Uncle Tito's Mexican Grill. Show your Wildcat spirit by joining PTSO for a fundraiser to support O. H. Somers Elementary. Come to Uncle Tito's Mexican Grill in Mogadore tonight, from 4p.m. from 10p.m. for dinner. Show this flyer or mention O. H. Somer Elementary School to ensure a portion of your dinner proceeds will be donated!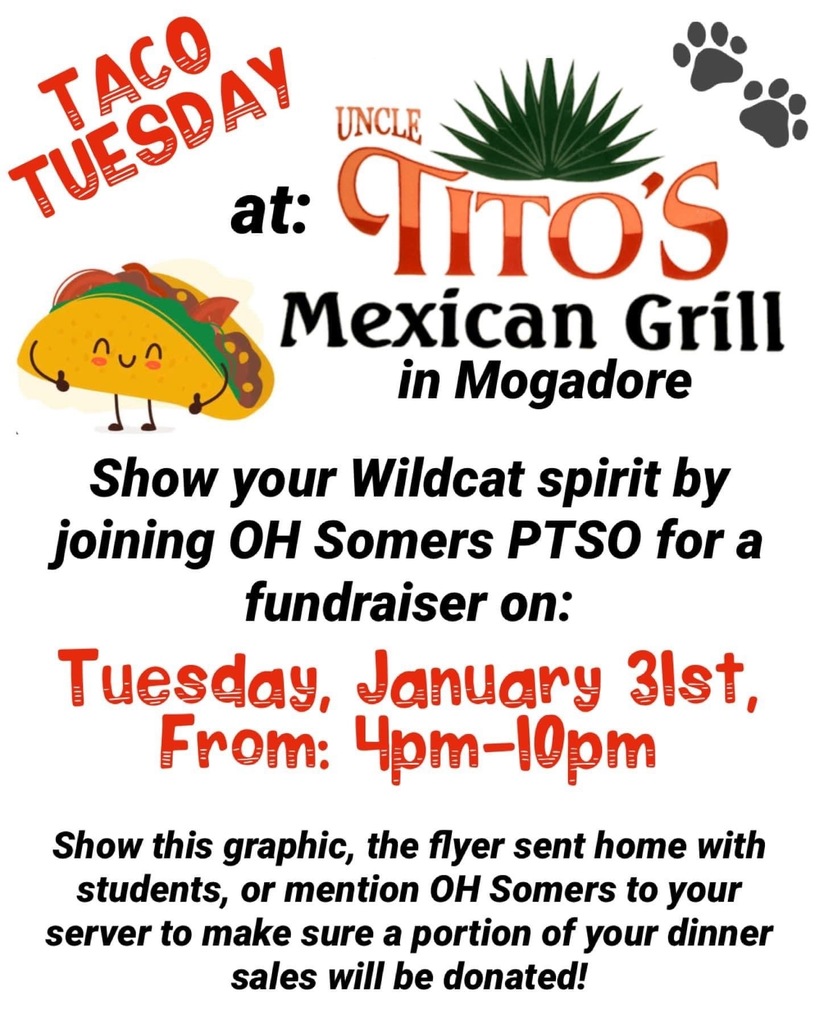 Mogadore Local and Mogadore-Maplewood are closed today due to weather. Take care.

To view student report cards, visit Progressbook Parent Access:
https://pa.neonet.org/district
If you are unable to access your account, contact the main office.

Mogadore High School After Prom will be having a Chipotle fundraiser this evening, Wednesday, January 11, 2023 from 5:00-9:00p.m at the Brimfield Chipotle 4050 Cascades Blvd F, Kent, OH 44240. Mention Mogadore After Prom or show them the flyer attached. If ordering online, please use code 8CC38ZA.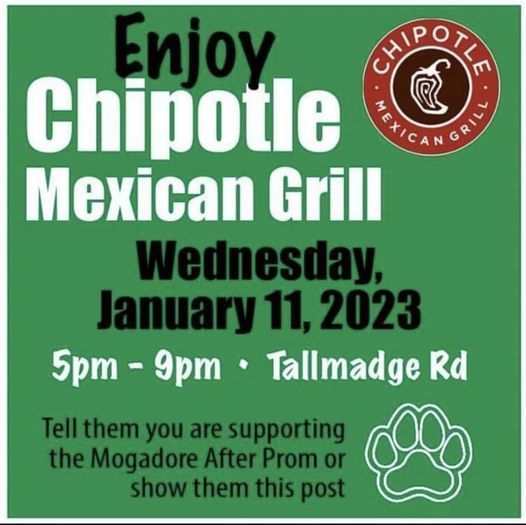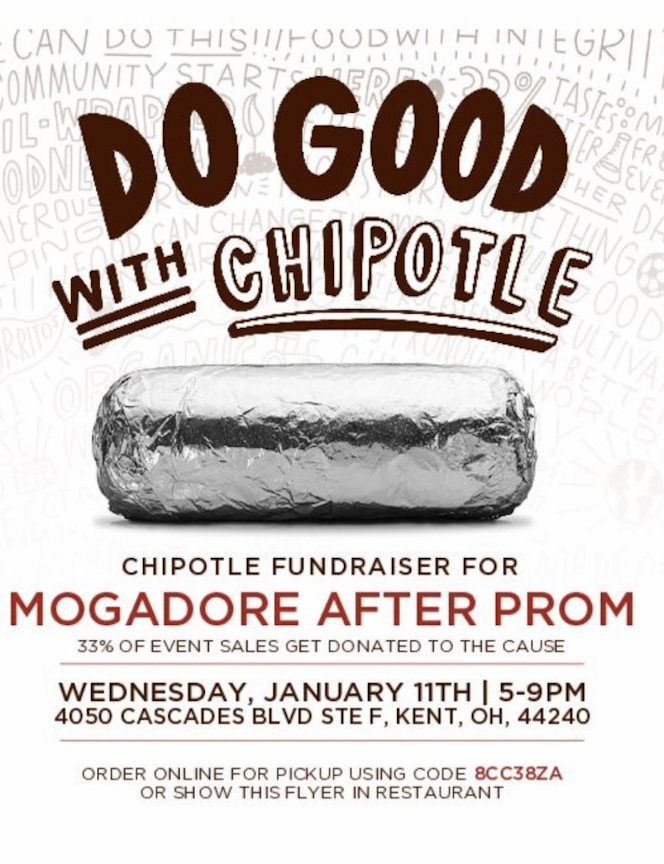 The Waterloo Winter Wrestling Classic on Saturday, December 17th will be webcast on
http://nwntv.com
. The event is free, though they ask for a $2 donation if possible. Go CATS!!!

Junior High and High School students: NHS will be hosting a Pajama Week next week from December 5th until December 9th. Each day you can donate one dollar to wear pajamas for that day. NHS members will come around during the beginning of the first period to collect donations. The donations will be going towards NHS's Holiday Drive. The Penny War is still ongoing. Make sure to bring in your change and canned goods to earn your grade positive points and to use your bills to sabotage other grades! We will be running the Penny Wars until next Friday, December 9. May the best grade win!

O. H. Somers Sixth Grade Wildcats LEAD will be collecting donations for Haven of Rest. New Hats, gloves, socks, and travel size toiletries will be collected the week of December 5-9. If you have questions, please see Ms. Campailla, Mrs. Leymon, or one of the students in Wildcats LEAD!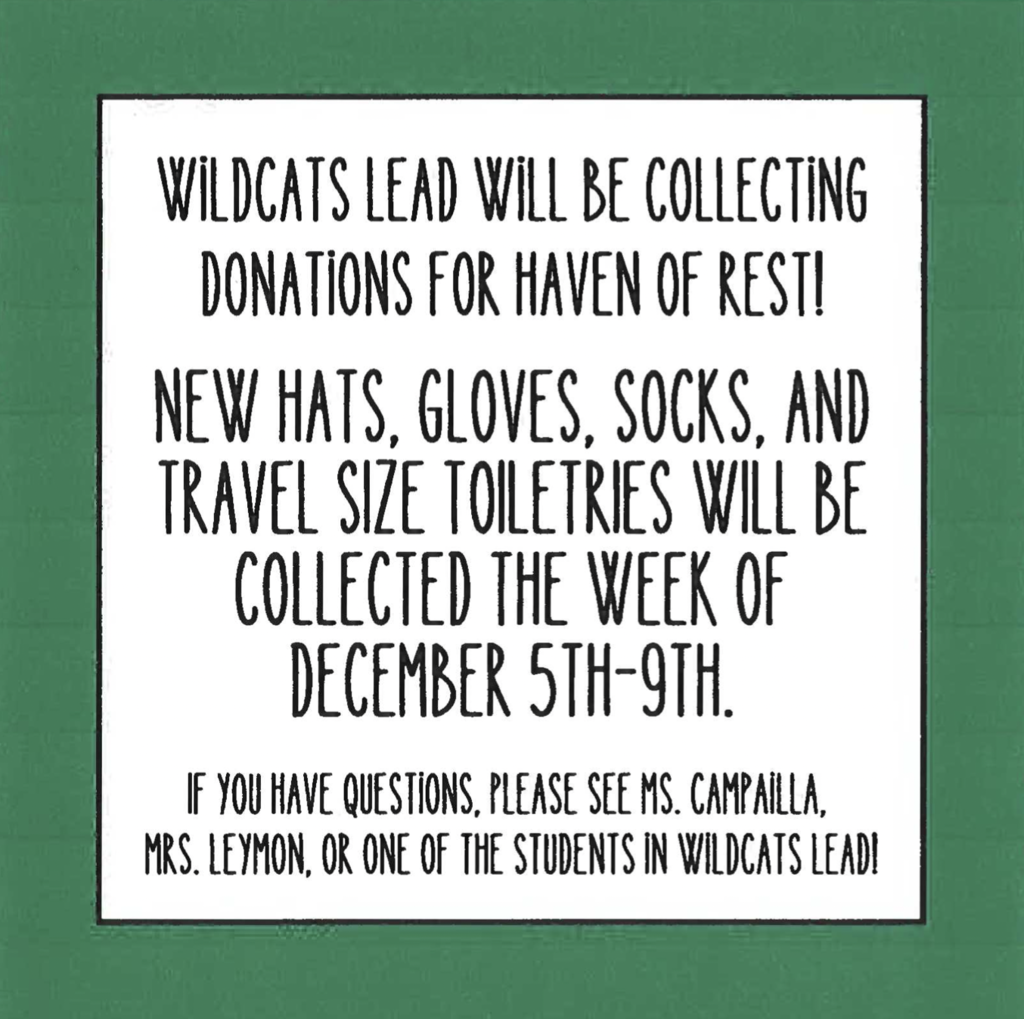 Junior High and High School students: PENNY WARS. The battle of the year is here. The Penny Wars start soon. The goal: have the most points. The prize: get out of 8th and 9th period to watch a movie and eat pizza on December 16. Start your winter break off right. Bring in your change or canned food to help bring your grade to victory. Or, bring in your bills to sabotage other grades. Coins and cans count as positive points and bills count as negative points. Every cent is one point. Every can is 100 points! All of the proceeds go to helping families in need provide for their families this holiday season. The Penny War begins November 28 and runs until 7:45 am on December 16. Good luck, and may the best grade win!


With the football team advancing in the playoffs, this Saturday evening's Green Door Theatre's performance of Pandemonium will be rescheduled for Tuesday, November 22. See the link for more information and to purchase tickets in advance.
https://mogadoredramaclub.weebly.com/tickets.html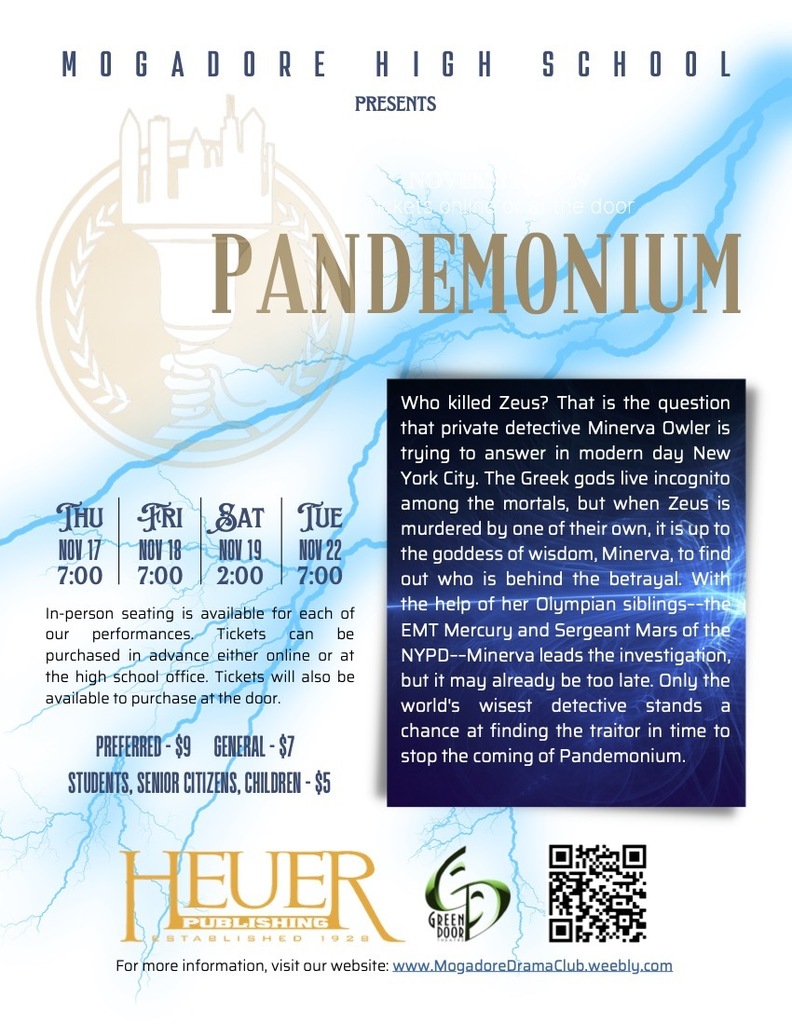 PTSO Donatos Dine to Donate Help support O.H. Somers on Thursday November 17th, 2022 from 5 p.m. - 9 p.m. 2749 Albrecht Ave, Akron 234-226-4777 Mention and or show flyer when picking up order 20% of your regular priced purchase will be "Doughnated" by Donatos to O.H. Somers. Must present this flyer with purchase for rebate to be valid! Valid on eat in and pick up only. Valid 11/17/2022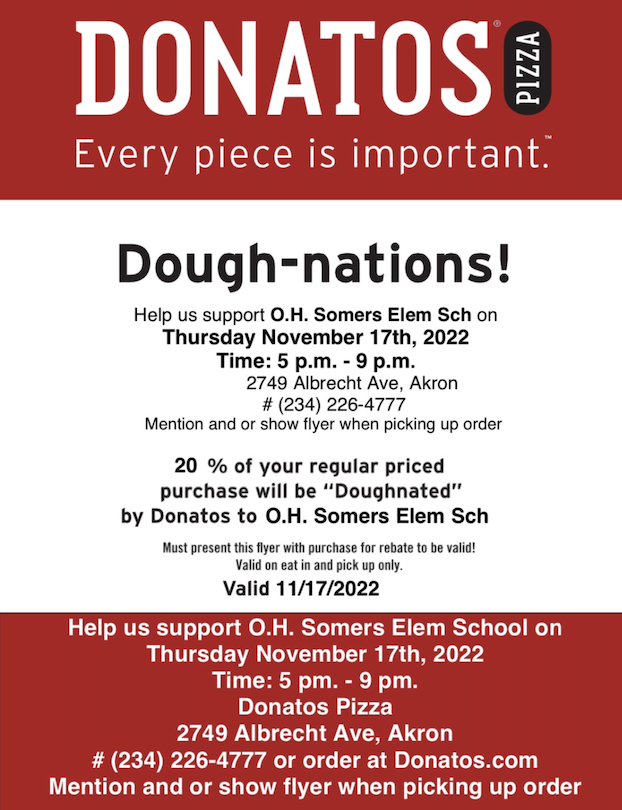 The book fair is here at O. H. Somers! Students will have an opportunity to shop the fair during school hours. If you send in money for your student to shop during the day, make sure envelopes are labeled with your child's name. If writing a check, it can be made out to O. H. Somers Elementary. (p.s. Remember to include extra for tax!) There are multiple family shopping nights! Monday, November 14th from 5:30-6:30 Tuesday, November 15th from 4:30-6:30 Wednesday, November 16th from 4:00-5:00 Every purchase benefits our school! Thank you for your support.


Good afternoon, Two items for you: Junior High and High School wrestlers there will be a parent meeting on Tuesday, November 8th at 6:30 PM in the Community Room (end of building nearest Cleveland Ave.). The Varsity football game will be this Saturday, November 12th starting at 7:00 PM. The game will be played at Twinsburg Tiger Stadium at 10270 Ravenna Road, Twinsburg. Take care, John Knapp

Wildcats have a busy post season weekend ahead! Tickets for this weekend's events must be purchased online:
https://www.ohsaa.org/tickets
11/4: Football vs Canton Central Catholic @ Home. Select Division 6, Region 21. 11/5: Girls Cross Country @ States

Mogadore High School Cheerleading Program will be having a Chipotle fundraiser on Tuesday, November 1st. • Mention Mogadore HS Cheerleading fundraiser in-store or use the flyer attached. • If ordering online via the Chipotle app or
www.chipotle.com
: Enter code 4HNTHK3 • Delivery orders placed through other apps will not count towards the fundraiser.