The Mogadore Athletic Booster Club's Fall Team Shop is now open! The deadline to place your order is August 23. Please notice that the apparel comes in different colors in the dropdown box. Thank you for supporting the Booster Club!
https://ritchiessports.com/shop/2022mogadorebooster/

We still have openings for next week's Summer Enrichment Camp for Grades K-6 and Robotics Camp for Grades 4-6. Both camps will be held Monday 8/8 to Thursday 8/11 from 9-12. Please email
mo_isabella@mogadore.net
if you are interested in your child attending camp.


Our Summer Enrichment Camp begins this Monday, August 1. Camp will run Monday-Thursday from 9-12 and also next week August 8 during the same times. There are still spots available if you are interested in your child participating. To register:
https://forms.gle/sRFMe78uppRbDRW46
Also, there are a few spots available for the Robotics program which runs August 1-4 for grades K-3 and August 8-11 for grades 4-6 To register:
https://forms.gle/1zWaxf9At1y1hsgu7



2023 Senior Parents: The sports program form is on Final Forms. Deadline is July 29!

On behalf of the staff, administration, and Board of Education thank you for your continued support of the district this school year. Reminder to Maplewood senior graduates to stop by the high school on Monday, June 6th from 8:00 AM to 3:00 PM to pick up your diploma. If this will not work for you, please contact the high school office at 330-628-9943 to arrange another time. The State track competitions are occurring as of this call so be watching for results for our competitors Mason Murphy, Amber Morris, Rachel Whetstone, Katie Lane, Brooklyn McIntyre, and Julie Tompkins. Should you need anything over the summer please call the board office at 330-628-9946. Again, thank you for helping make the 2021-2022 school year successful. Have a nice evening and an enjoyable summer with your family. John Knapp

Four items: -6th grade students and their families will be recognizing their completion of elementary school this evening at 6:00PM in the high school gym. -Shout out to the first in school history Girls Regional Champions in Division III Region 9: Amber Morris, Brooklyn Beckford, Rachel Whetstone, Katie Lane, Brooklyn McIntyre, and Julie Tompkins. Congratulations to them! -Moving to State competition this weekend will be Mason Murphy, Amber Morris, Rachel Whetstone, Katie Lane, Brooklyn McIntyre, and Julie Tompkins. We wish them luck. -Finally, the 2022 Mogadore High School Graduation is posted on Youtube. Have a nice evening, John Knapp

PTSO Spiritwear is here! Pick up your orders at door 7 on Friday, May 20, 2022 from 5:00-7:00 p.m.

Hello, This evening and the following Tuesdays in April Gio's (formerly Lembo's) is donating a portion of sales for dine-in, carryout, and catering to the Mogadore Music Boosters. Tomorrow, Wednesday, is the Soup and Sandwich fundraiser from 11:30 AM to 1:30 PM for the Mogadore Historical Society at the Russ Pry Community Center. Saturday, April 16th is the PTSO Bunny Breakfast at O.H. Somers from 9:00 AM to Noon. The following Saturday, April 23rd is the Alumni Spaghetti Dinner fundraiser for scholarships from 4:30 PM to 7:00 PM. Please join us for many ways to help and enjoy a meal.

Hello Families, A reminder from the After Prom Committee that pepperoni roll orders are due to the high school office by tomorrow (Wednesday). Top sellers in the junior and senior class will win a cash prize. *Sent to 11th and 12th grade families From O.H. Somers PTSO: *Sent to K-6 families ● Boys Bash Pre-Sale tickets, Egg Your Yard, and Spirit Wear sales have all been extended through this Friday, April 8! We will not be able to fulfill any orders past that date. The forms for this are on the district website. ● Our annual Easter Bunny Breakfast is BACK! We are so EGG-cited to host this event again! Join us Saturday, April 16 from 9-11am for a pancake breakfast, crafts, games, face painting, basket raffle, and of course, pictures with the Easter Bunny! Ticket Order Forms went home on Monday and are due back no later than Monday, April 11 for Pre-Sale Tickets ($7.00 each, 2 and under FREE). After April 11, Tickets may be purchased at the door for $10 each (2 and under FREE). Remember to bring cash to the event for basket raffles, face painting and games! Any questions or concerns? Please message us on Facebook @OHSomersPTSO

Mogadore Senior Yard Sign Orders deadline is March 25, 2022! Signs are 18" x 24" full color and double sided. Please complete order form and email the completed form to
mogadoreafterprom22@gmail.com

Mogadore After Prom Fundraiser "Taco Tuesday" on March 8th. Uncle Tito's in Mogadore, for dine in or take out. Help support the Mogadore juniors and seniors with a safe and fun after prom. A percentage of the sales for the day will be donated to the after prom. Please mention you are supporting the after prom to count towards the fundraiser. Thank you for your support!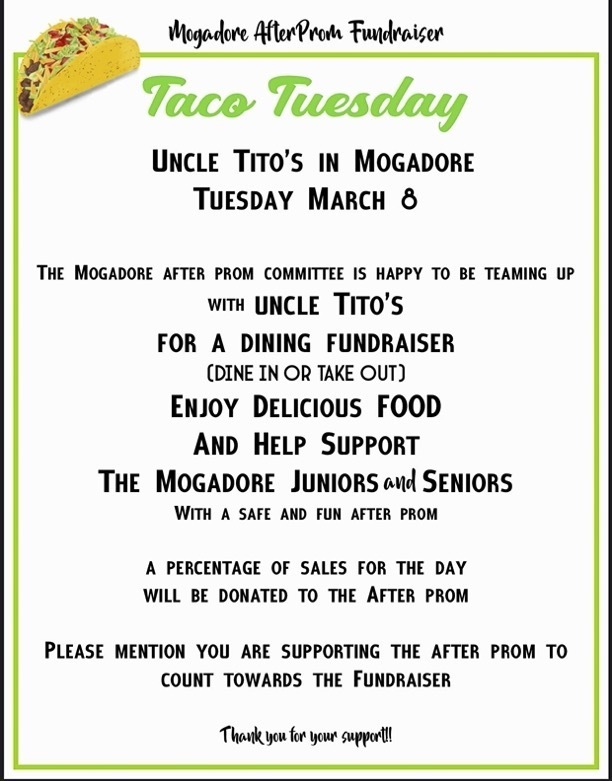 The Green Door Theatre will host their spring production: The Addams Family: School Edition Click here for Ticket Info.